Check In Check Out Guests
WELCOME TO THE SMOKY MOUNTAINS
SECLUDED TOWNSEND CABIN RENTALS
We have some of the most secluded cabins in the Great Smoky Mountains. We are close to Wears Valley, Pigeon Forge, Townsend, Gatlinburg and the Great Smoky Mountain National Park! All our cabins are on acreage making it one of the most secluded areas in the Smoky Mountains and come fully equipped with Hot tubs, Jacuzzi, fireplace, game room, microwave, washer/dryer, dishwasher, coffee maker, TV, DVD player linens and more. Most of our cabins have free access to a swimming pool and stocked fishing pond nearby!  Our cabins and secluded setting make a great getaway for your Honeymoon, Anniversary, Family Vacation, Reunion, or Church Retreat.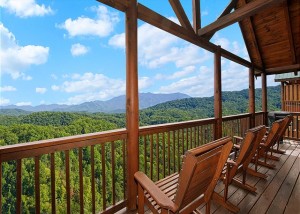 AVAILABLE PROPERTIES
Secluded Cabins
Book or quote online and save 10-25%
There's no place like home...or maybe there is!
CHECK AVAILABILITY
UNIQUE AND SECLUDED SETTING
Choose your venue

DREAMS COME TRUE
Weddings
Did you know the Smokey Mountains are the number one destination in the country for weddings and honeymoons! It is now possible to have your wedding performed at your cabin, in the outdoors, an area chapel or the setting of your choice!

IDEAS COME TRUE
Spiritual Retreats
The Great Smoky Mountains are the ideal destination for spiritual or  church retreats, or family reunions. Plan your event with us!
HAPPY VISITORS
Testimonials
"We had a wonderful 10th anniversay here! Just loved the hot tub, privacy and easy location! Thanks for the good directions, came in handy when we got delayed and came in late! We would recommend this cabin to anyone wanting a nice quiet time in the mountains together."
SHOTGUN & TOOTY
"Just loved sitting by the fireplace talking and relaxing! Kid's loved the outdoors! Spent a lot of time in Gatlinburg taking in all the sights! Had cook out to remember on Saturday night! Would love to return!"

RUSSEL FAMILY, FLORIDA
DINING IN THE MOUNTAINS
Best Restaurants
The most comprehensive list of restaurants in the Smoky Mountains, Pigeon Forge, Gatlinburg, Sevierville, Wears Valley, Townsend, Tennessee. Get their online rating, see what the specialty of each restaurant offers and let you fingers do the walking saving you time while on vacation in the Great Smoky Mountains area!